Sunday Vigil Mass Saturday: 4:30 PM
Sunday 8:00 AM, 10:00 AM, 11:30 AM (Polish) and 5:30 PM
Weekdays
Monday: Novena with Mass at 7:00 PM
Tuesday: Morning Mass at 7:00 AM in English
Wednesday: Novena with Mass at 7:00 PM in Polish
Thursday: Morning Mass at 7:00 AM in English
Friday: Morning Mass at 7:00 AM in English
Saturday: Morning Mass at 8:00 AM in English
First Friday: 7:00 AM Mass in English followed by the Litany to the Sacred Heart of Jesus.
7:00 PM Mass with Novena to Our Lady of the Miraculous Medal Every Monday (Rosary at 6:45 PM) in English.
7:00 PM Mass with Novena to our Lady of the Miraculous Medal Every Wednesday (Rosary at 6:45 PM) in Polish.
Divine Mercy Devotions: Every third Sunday at 3:00 PM – Be sure to check the bulletin for more information.
Sacrament of Reconciliation
Confession is heard before Weekday Mass and on Saturdays at 3:30 PM
CELEBRATION OF THE MASS – Live Stream Schedule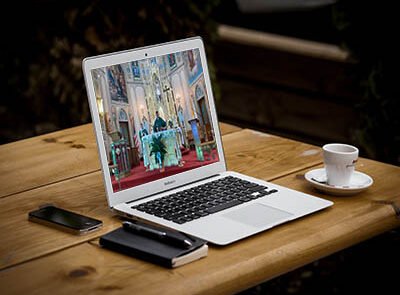 We are now everywhere you are!
Join us, virtually, as we Celebrate the Holy Mass:
on, Saturday, 04February2023 at 4:30pm – Live Streamed
Note that all Live Streamed Masses are available afterwards so you can view them at your convenience)
The Masses will be live streamed on Facebook. Please stay tuned to our Facebook page for updates.
God bless you all! We continue to pray for you.
Deacon Bob
St. Michael's Church Facebook Page
Stay tuned for more information on upcoming Live Stream events on Facebook. Go to the Facebook page now using the link above and "Like" the page to receive notices of these events.
Dear Brothers and Sisters in Christ,
Thanks to the generosity of donors to the Archbishop's Annual Appeal our Church is able to provide much needed assistance to thousands of people each year. By uniting our efforts as an Archdiocesan family of faith we serve people in ways above and beyond what any one parish or organization could accomplish alone. We are truly Stronger Together, which is the theme of the Appeal for 2022.
Stronger Together is not just a description of our charitable outreach, but also our unity in Christ whenever we hear His Word and receive Him in Holy Communion at Mass. Mass sends us forth Stronger Together to put our faith into practice by loving God above all things and our neighbor as ourselves. Living our faith means helping others spiritually and materially, caring for our elderly and sick, sheltering the homeless and feeding our hungry. And it means providing spiritual care in a wounded world.
Please share generously the time, talent, and treasure that God has given you, so that together we can meet the challenge of helping provide
for the spiritual and material well-being of individuals, families, and communities throughout Hartford, New Haven, and Litchfield Counties.
This brochure illustrates just some of the ways that Stronger Together can make a difference in the life of our Church and our communities, taking to heart the words of St. Paul, that we "pursue what leads to peace and to building up one another" (Rom 14:19).
God bless you.
The Most Reverend Leonard P. Blair
Archbishop of Hartford