Sunday Vigil Mass Saturday: 4:30 PM
Sunday 8:00 AM, 10:00 AM, 11:30 AM (Polish) and 5:30 PM
Weekdays
Monday: Novena with Mass at 7:00 PM
Tuesday: Morning Mass at 7:00 AM in English
Wednesday: Novena with Mass at 7:00 PM in Polish
Thursday: Morning Mass at 7:00 AM in English
Friday: Morning Mass at 7:00 AM in English
Saturday: Morning Mass at 8:00 AM in English
First Friday: 7:00 AM Mass in English followed by the Litany to the Sacred Heart of Jesus.
7:00 PM Mass with Novena to Our Lady of the Miraculous Medal Every Monday (Rosary at 6:45 PM) in English.
7:00 PM Mass with Novena to our Lady of the Miraculous Medal Every Wednesday (Rosary at 6:45 PM) in Polish.
Divine Mercy Devotions: Every third Sunday at 3:00 PM – Be sure to check the bulletin for more information.
Sacrament of Reconciliation
Confession is heard before Weekday Mass and on Saturdays at 3:30 PM
CELEBRATION OF THE MASS – Live Stream Schedule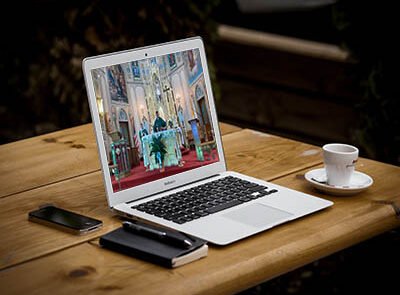 We are now everywhere you are!
Join us, virtually, as we Celebrate the Holy Mass:
Saturday, 30September2023 at 4:30pm – Live Streamed
Note that all Live Streamed Masses are available afterwards so you can view them at your convenience)
The Masses will be live streamed on Facebook. Please stay tuned to our Facebook page for updates.
God bless you all! We continue to pray for you.
Deacon Bob
St. Michael's Church Facebook Page
Stay tuned for more information on upcoming Live Stream events on Facebook. Go to the Facebook page now using the link above and "Like" the page to receive notices of these events.
Dear Brothers and Sisters in Christ,
Brothers and Sisters in Christ,
Each time we gather to celebrate Mass we are participating in and publicly giving witness to the presence of Christ in the Holy Eucharist.
It is through the Holy Sacrifice of the Mass that Jesus becomes present — body, blood, soul and divinity — in the gift of the Eucharist.
This year the Archbishop's Annual Appeal has chosen the theme of His Sacrifice, and ours! It is because of the sacrifice made by the generous donors of the Archbishop's Annual Appeal that we are able to provide much-needed help to thousands of people each year by charitably meeting the needs of those individuals and families
His Sacrifice, and ours! reminds us that it is His sacrifice on the cross which inspires us to make sacrifices of our own in order to help others whose need is greater than ours.
Please share generously the time, talent and treasure that God has bestowed upon you, so that together we can continue our ministries that enrich, nurture and foster the spiritual and material well-being of individuals, families and communities throughout the Hartford, New Haven and Litchfield counties.
God bless you.
The Most Reverend Leonard P. Blair
Archbishop of Hartford